In-Line Corker-Screw Capper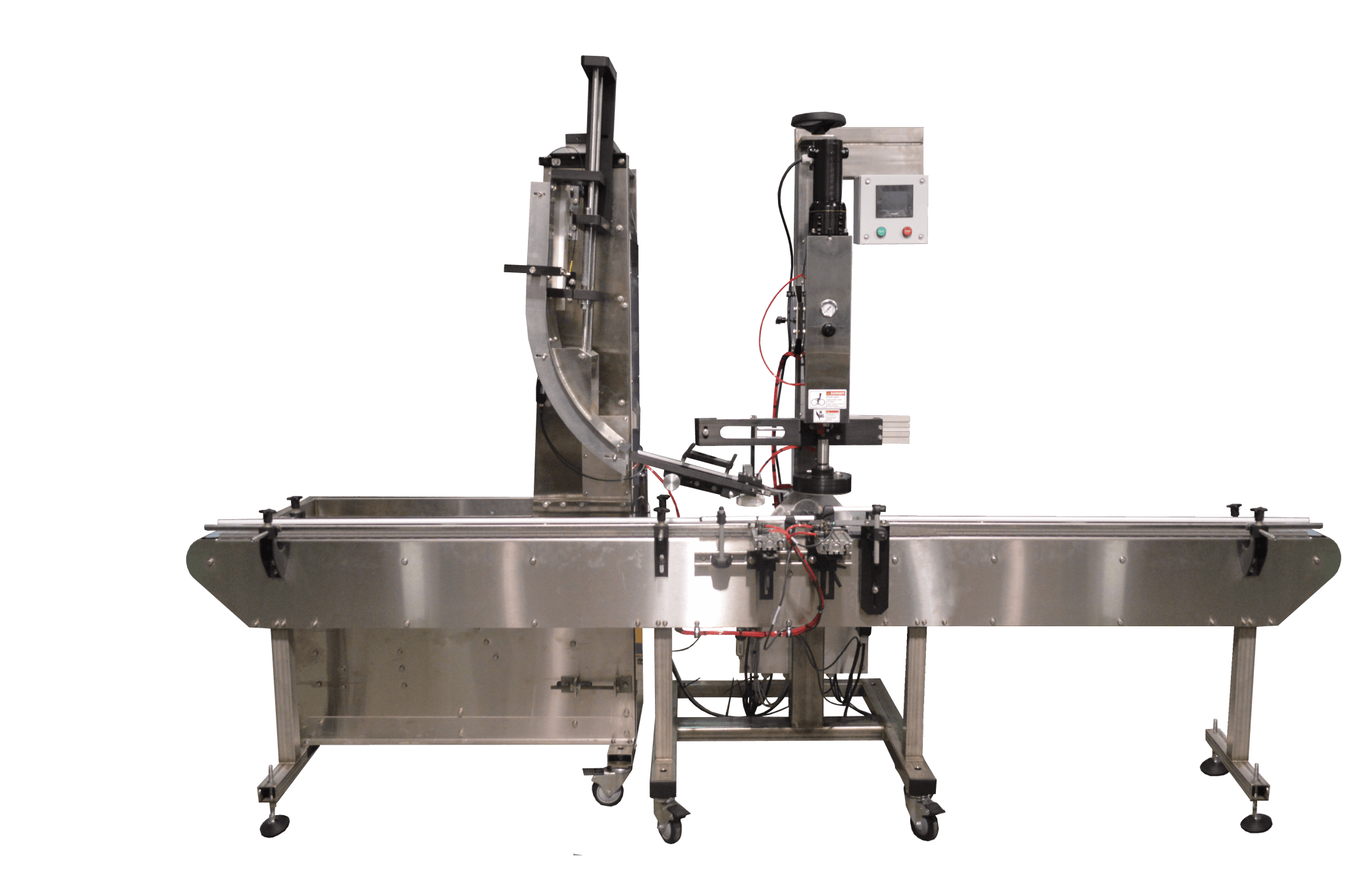 Single-head automatic chuck screw capper and plastic-top cork applicator system to sort and apply caps and corks to rigid containers at nominal speeds of 30-40 containers per minute.
The machine will automatically sort and feed plastic top corks or screw caps from a bulk hopper and deliver them to the escapement and cork-cap applicator. The applicator will transfer the cork/cap from the chute escapement on to the container and insert the cork in to the cork retainer, pressing the cork to its position on the neck of the container. The screw cap will be placed and torqued accordingly on to the container. The containers will be automatically indexed and centered under the application station for container to cork alignment and released after the cork has been applied.
Features:
• 304-stainless steel frame construction
• Aluminum and plastic parts throughout the mechanism
• Stainless steel and plastic cap/cork handling parts
• Easy change over and minimum change over parts
• Floor mounted hopper for easy cap loading
• Positive container indexing and centering
• Hand crank adjustment for different height containers
With In-Line, you can feel confident in the quality and precision of our machines. Since 1994, we have been assembling machines. Since then, we have designed and patented machines that run on efficiency and accuracy. We know the industry and we know the biggest challenges of the industry. That's why we've spent the last 20 years developing solutions for beverage companies that save time and money. We also back up our products with a one-year warranty. And we provide support after the sale. When you choose In-Line, you partner with us for the long-term. We are here to troubleshoot and provide solutions for your bottling needs, long after the purchase is complete. We are passionate problem solvers. We enjoy taking on efficiency and process issues and creating systems that run seamlessly. Our labeling, filling, bottling, and packaging solutions will meet your needs. Give us a call today and we will get you set up with a custom solution for your business!
SaveSave
Tags

Distilleries, Food Packaging