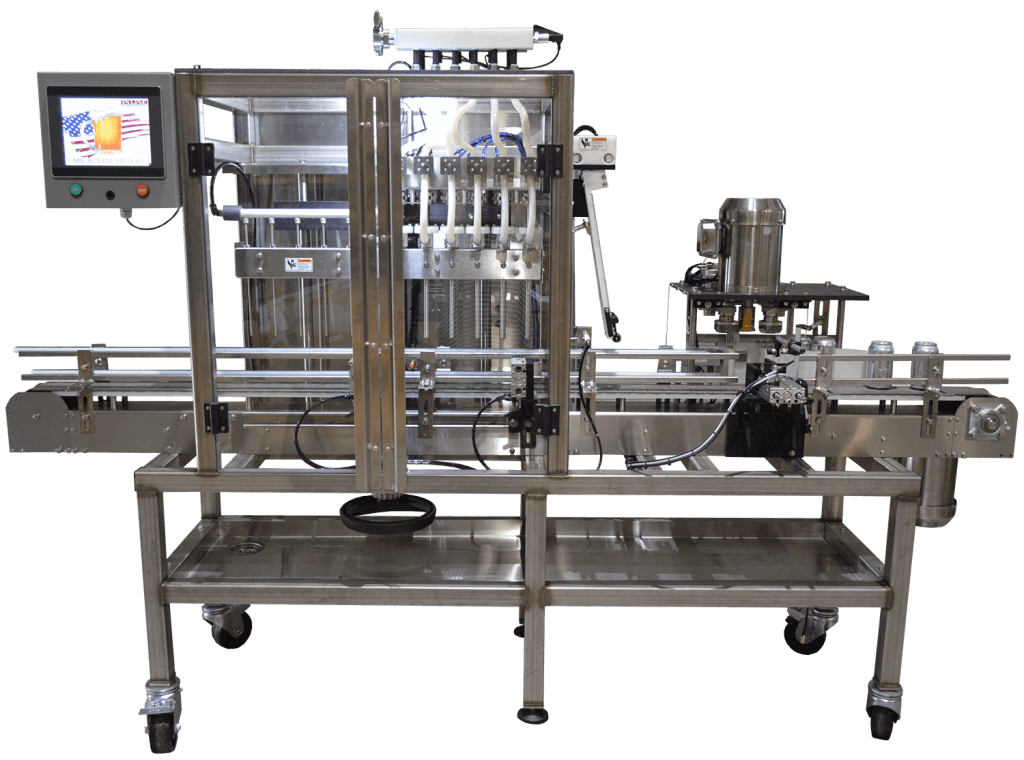 Our new CCF-6 Can Filler and Seamer uses pre-purge filling technology in controlling fills. The CCF-6 can fill 12 oz cans at nominal speeds up to 40 cans per minute depending on product carb level, tank pressure, and temperature.
Container handling is fully automatic – no manual loading or unloading of cans. When ready, the cans are shuttled over and stopped under the fillings heads. A CO2 douse floods the can and removes atmosphere prior to fill. Our filling heads use genuine liquid pinch valves to control product flow. Flow meters on each head allows for fine adjustments of the fill height on an individual level preventing excess waste. When complete, the cans are transferred over to the seaming conveyor where they receive a CO2 drip to remove any atmosphere from the open can. A lid is placed onto the top and the can is seamed. After completion the cans exit over to an accumulation table for pack off.
When precision and quality matter, choose In-Line! We put the thought and consideration into the processes you need, so you can feel confident that when you choose our machines, you make the right choice for your business. For over 20 years, we have been assembling and designing machines. We enjoy taking on efficiency and process issues and creating systems that run seamlessly. Our labeling, filling, bottling, and packaging solutions will meet your needs. Give us a call today and we will get you set up with a custom solution for your business!