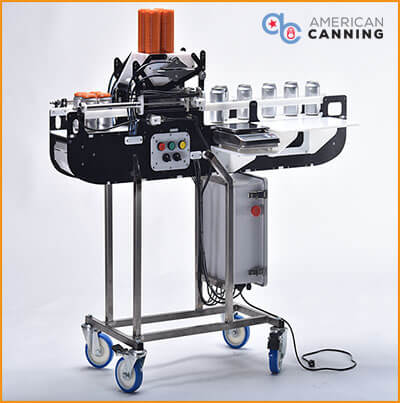 The American Canning PakTech Handle Applicator has a compact footprint and simple, yet robust design. It delivers full-sized machine performance to small craft beverage producers.
Capacity: 150+ cans per minute
Line Compatibility: Ideal for in-line and conveyor belt-fed canning lines but designed to work with virtually all makes and models, including small to mid-sized rotary machines and conveyor-type "non-counter pressure" equipment. Essentially, if you can get your cans onto the built-in conveyor, the applicator will take care of the rest. We'll build the conveyor deck height to order.
Easy Use: The user interface has been stripped down to three buttons and two switches. With 120V of power and 50-100 PSI compressed air at <1 CFM, you can go from crate to applying in just minutes.
Compact: 54 inches by 20 inches operating footprint. The mobile configuration includes casters and folds to 30 inches by 20 inches for maximum portability.
Cans: 12oz, 16oz, 375mL and/or 500mL cans; no additional parts required.Handles: For use with easy-release, PakTech 6Pak and QuadPak can carriers.
Product Specs
Capacity: +150 CPM
Cans: Standard (211 diameter) beverage cans
Handles: Easy-removal, PakTech can carriers
Configuration: 6 pack and 4 pack
Operating Footprint: 54″ x 20″
Power Requirements: 120V
Compressed Air: 50-100 PSI at <1 CFM