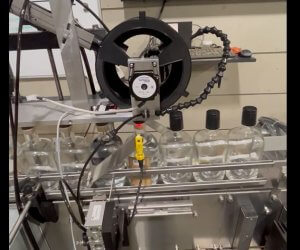 What Are they Up to This Time???
Introducing our PVC Shrink Capsule Applicator
There is always something new cooking at In-Line Packaging Systems Inc. Whether it's a new custom build, out of the box filling, or labeling machine, we're always up to something.  Lately we have been working on our brand-new Automatic PVC Shrink Capsule Applicator.  Whether you are in the food packaging industry, distilled spirits, or another consumer-packaged goods business, chances are you have some tamper evidence requirements.  Our Automatic PVC Shrink Capsule Applicator takes out all the manual labor involved in tamper evidence.  Our machine allows the user to place stacks of shrink capsules into a loading hopper which feeds one stack at a time into a magazine style capsule feeder.  Using a unique combination of motion control and pneumatic devices we load, feed, and dispense capsules directly onto your closed bottles just before sending them through a heat shrink tunnel. Many producers are stuck manually separating and dropping these onto the bottles by hand. As you can imagine that is pretty costly and can lead to repetitive motion injuries for your team members.
This system not only mitigates that risk, but it also adds a great deal of efficiency too.  Our shrink capsule applicator can dispense up to 60 capsules per minute. That's equal to the hand work of three employees doing this manually. Customers who have automated this with us have discovered that other than occasionally placing new stacks of capsules the machine runs without operator intervention. That means three people who can now be tasked with more value adding tasks than dropping capsules onto bottles.
In addition to providing the tamper evidence that is required, pvc shrink capsules are a great way to really dress up the finished look of a package.  Premium products need to look, well, premium. Let us help take the waste out of that process for you.  .
For all your Labeling machine, Filling machine, and Capping machine needs, give us a chance. You won't regret it. We are family owned and all made in the USA. Check out our YouTube channel for some demo videos of what we offer.
Reach us at www.inlinepack.com
8435692530
https://www.youtube.com/@InLinePackagingSystems
Need Capsules? we can help with custom and stock solutions:https://www.thehiveminds.com/